Excursions
Amidst the nature the block hous holiday park is an ideal starting point for multifarious activities.
By the extended and well marked hiking trail network you can reach a lot of sightseeing attractions directly from Eisenschmitt. The houses are directly located to the margin of the "Salmwald", a big and nearly unaffected forest area, where you can experience the pure nature. The fresh and aromatic air enhances your well-being.
Not far from Eisenschmitt you´ll find the famous "Eifelmaare", extinct and water-filled volcanos. The Eifel-poet Clara Viebig (Exhibition in Eisenschmitt) called them in her poetry as the "Eyes of the Eifel".
One of these geological rarities is just about 6 km away from the park: The "Mosenberg" is the only crater lake north of the Alps.
Besides the beauty of the nature, discover the country of electors, earls and archbishops as well as monasteries, castles, palaces, churches and roman graves - history on every step.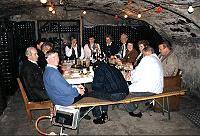 What about a cosy wine tasting?
The family winery Schmitges in the heart of the beautiful village Minheim at the river Mosel is leaded by two winemaker-masters. Father and son continue the business which was founded in 1622. Mainly the Riesling is cultivated at Minheim and Erden. We are glad to arrange a winetasting at the Schmitges on request.
More activities:
Playing golf · Fishing · Canoeing · Riding · Hang gliding · Tennis · Playing skittels · Miniature golf · Mountain biking · Nordic-Walking · and much more...
Famous attractions nearby and farer away:
[top]